Distilling order from a crushing whirlwind of chaos has been the stock in trade for Red Kite since the Norwegian jazz-rock supergroup joined forces in 2014. Apophenian Bliss, the much-anticipated follow-up to the quartet's powerhouse 2019 self-titled debut references the tendency in the human brain to find patterns and connections even when none actually exist. While it may be a stretch to call Red Kite's blistering alchemy of surging psychedelia, steamroller rock and fringe-dwelling jazz "benign," it's at least a far less harmful application of the term than the conspiracy theories warping minds across the globe.
Still, corralling the heady pandemonium of heavy prog, free jazz, combustible fusion and avant-metal into a cohesive sound is one thing; bringing that music to life in the face of the real-world chaos of a global pandemic is something else entirely.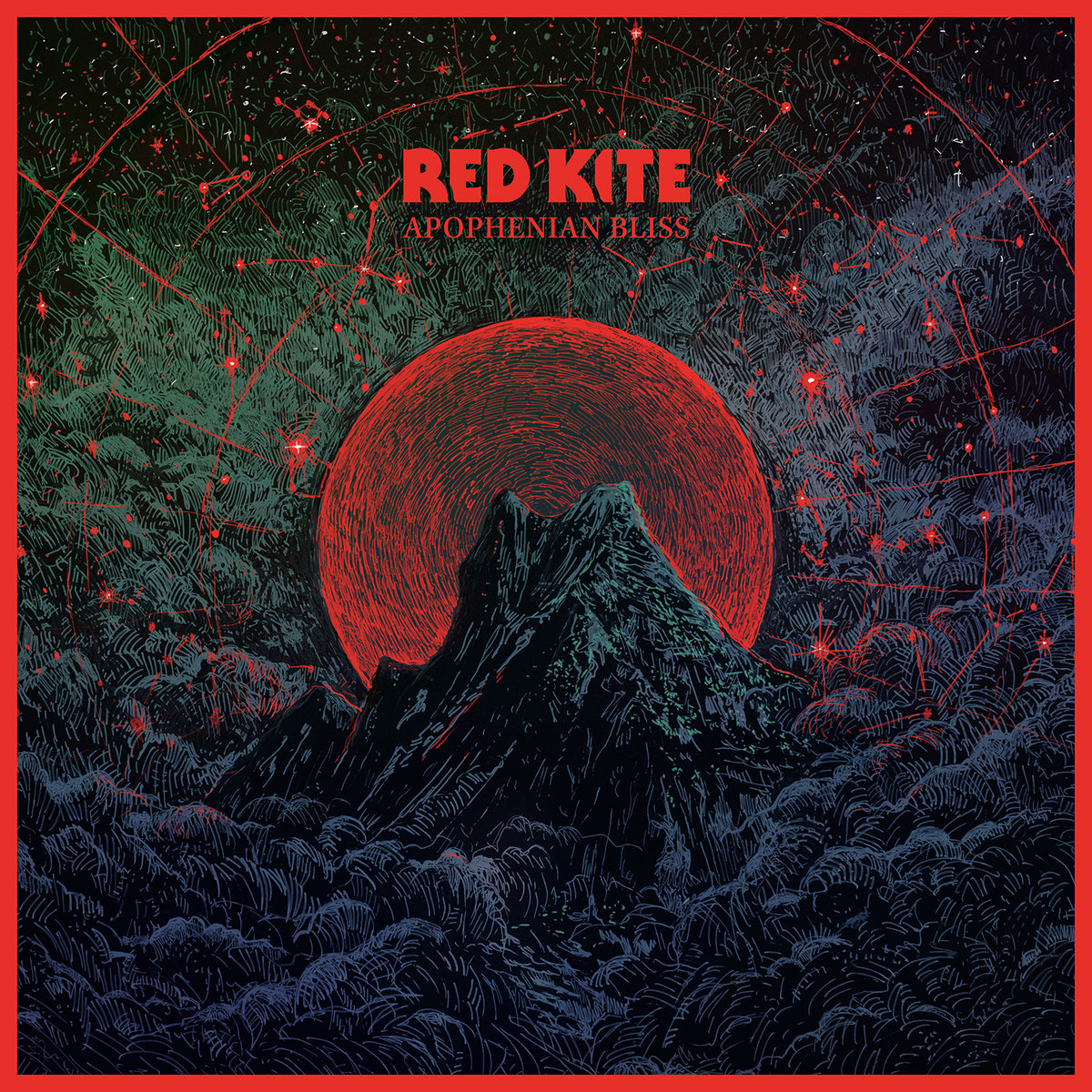 "I guess the story for us, as for everybody, is the pandemic," explains drummer Torstein Lofthus. "We left to go on our first proper tour on the 11th of March, 2020. We only managed to play the show that night, and then the country shut down the very next day. So: change of plan!" More.
"We all grew up listening rock and heavy music," says Lofthus, "but later discovered jazz, prog and all kinds of other great stuff along the way. It's all just music to us, to the point where it all just melts together into one big organic stew now."
Prog Mag:
Red Kite brings together guitarist Even Helte Hermansen, bassist Trond Frønes, keyboardist Bernt André Moen and drummer Torstein Lofthus, four incredible musicians able to navigate complex prog-jazz architecture with both risk-taking, improvisatory jazz spirit and a brain-rattling hard rock intensity.
The release of Red Kite's self-titled debut was cause for celebration among those with a taste for the adventurous and extreme. It's a delirious set that fluidly elides genre boundaries with staggering vibrancy and galvanizing imagination.
That stew offers the listener a hearty, churning cauldron of sound to taste from over the course of the band's stunning debut, Red Kite. The album's 40 densely layered minutes comprise four expansive original compositions by guitarist Hermansen, each offering a vast, intriguing but wide-open terrain for the band to traverse. In addition, the quartet delves into Alice Coltrane's "Ptah, the El Daoud," the title track from the pianist/harpist's classic 1970 Impulse! album, honing the original's spiritual transcendence to a keen, serrated edge. Lofthus and Hermansen met while both were members of the long-running Norwegian hard rock band Shining.
The drummer was a founding member in the group's early days as an acoustic jazz quartet; Hermansen joined a decade into the influential ensemble's history, as it was veering further into avant-garde metal sounds on albums like Grindstone and Blackjazz. Both were familiar with Frønes' distinctive powerhouse style from his work in the rock band Cadillac; Hermansen went on to work with him in the progressive jazz fusion quintet Grand General. When the bassist left his home base of Trondheim for the capital city, Oslo, the three were, according to Lofthus, "all just looking for an excuse to jam." The results, he recalls, were "too much fun not to repeat at a later date."
Lofthus and Hermansen had each already established a thrilling trio on their own since leaving Shining: Lofthus formed the acclaimed Elephant9 with keyboardist Ståle Storløkken and bassist Nikolai Eilertsen, while Hermansen led the explosive Bushman's Revenge with bassist Rune Nergaard and drummer Gard Nilssen. To differentiate from these bands as well as offer even more possibilities as this exciting jam session gelled into a working band, it was decided to expand the line-up with a fourth member.
"(…) Red Kite constitutes a modern day Norwegian super-group. Its full-on sound fused super-charged rock with a free-jazz aesthetic -a sort of gothic Mahavishnu Orchestra for the 21st century. Red Kite's energy was undeniable and Hermansen in particular impressed with one blistering solo after another. (…)" –Ian Patterson, allaboutjazz.com